Volunteer Now
Valley Forge Volunteer Fire Co. needs volunteer firefighters
We provide: Free training, excitement, pride from serving your community.
Did you grow up watching emergency vehicles pass by with their lights and sirens blaring, thinking 'Man that looks cool'? So now you're a bit older and looking for some excitement in your life, and possibly a way to serve your community at the same time. Well look no further! Valley Forge Volunteer Fire Company are looking for folks just like you.
We are ready to provide you with free training, state-of-the-art equipment, and everything you need to be safe while you're helping others. Inquire now!
Save. Protect. Serve.
We are parents, teachers, working people from all walks of life. We are women and men, friends and neighbors working together to help one another. We are volunteer firefighters committed to safeguarding our community.
We need you!
In fact, we have an opportunity for you now!
Imagine making a difference in the lives of others in your community. Opportunities and training are available for: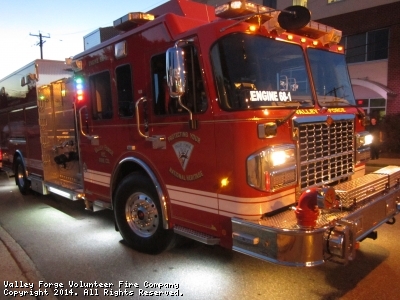 Firefighting Operations: Explore the exciting world of firefighting and receive training to do it safely. As a firefighter, you will do the work necessary to advance the hose line, to perform search and rescue, and to position ladders strategically.
Rescue Operations: As part of Rescue Operations, you will respond to specialized calls, including auto accidents, carbon monoxide alarms and rescue calls.
Fire Police: Fire police assist in traffic management and crowd control, and provide general assistance at emergency scenes.
Browse the site and fill out an inquiry form and we will contact you with details on the great opportunities and advantages that come along with volunteering!